As well as The Ed Kent Trust, several other things have been done or set up in memory of Ed.
The Dorset Schools' Cricket Association wanted to remember a young lad who played cricket for his school teams at both Sandford Middle School and Lytchett Minster School. The winners of the Under 13 county competition are now presented with The Ed Kent Shield and Paula, Andy and Becky were pleased to make the presentation to the first recipients, St. Michael's Middle School, in 2016 after their final against Poole Grammar School. Clayesmore Preparatory School were the 2017 winners with Poole Grammar School finishing as runner's up again. The 2018 winners were Clayesmore Preparatory School, beating The Sir John Colfox School from Bridport in the final.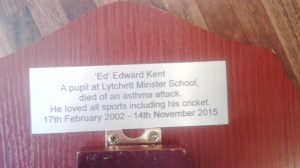 Ed was a member of Bere Regis Sports Club, having played both cricket and football for his village. The 'Young Player of the Year' award in the cricket section has now been named after Ed and the first recipient of the new shield was Jacob George. Jacob played in the same youth team as Ed and made great progress into the adult 2nd XI team during the summer. The 2017 recipient was  Jake Perch and the 2018 recipient was Elliot Woodhouse, both ex-teammates of Ed.
The youth football section presented two shields in 2016, both to people who put many hours of hard work in behind the scenes, namely Malcolm Strannack and Steve Hewitt. The 2017 winners were Charlie Reeves and Herbie Swann. In 2018 one of the shields was presented posthumously to Tony Shave, a great village character for many years, and the other to Alan Lambert.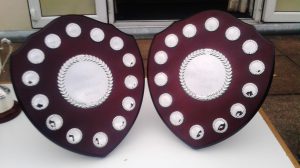 Lytchett Minster School has added the Ed Kent Trophy to its long list of prizes to be awarded at their annual prizegiving every July.